EVA Brands
EVA is marketing all its products under the well-known brand "EVA Apples from Austria", "Prime" and "Red Hills".
EVA Apples from Austria was developed 20 years ago. Products which are sold under the brand of EVA Apples from Austria represent high class apples which inspire clients in Europe, North Africa and the Middle East.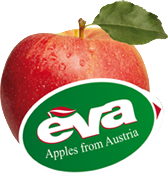 EVA Prime represents the highest quality standards. Clients who are buying Prime are guaranteed absolute premium products. These apples are not only convincing by a fantastic taste but also by upper class and characteristic external appearance. This applies for full colored Gala and Braeburn as well as Golden Delicious with a red blush; a real specialty.
Our brand Red Hills, we have developed in cooperation with "Steirisches Vulkanland" http://www.vulkanland.at
….Right from the heart of Styrian volcano land! Fiery, dynamic and explosive is how this unique landscape emerged millions of years ago. Special volcanic soil offers unique conditions for apples with a strong character. The Styrian volcano land boasts a climate and soil, and it is there that these apples are regionally grown and harvested – with great care and passion.

Clubbrands
With EVELINA and KIKU EVA Handles GmbH also has 2 well known club Brands within ist product range who are enjoying increasing popularity amongst it's customer base. 
EVELINA AUSTRIA
EVA Handels GmbH is proud partner of the project executed by the AFG GmbH, who is license holder of EVELINA and coordinates and distributes the brand activities of EVELINA in Austria. The main objective of this platform is the coordinated marketing of  this fantastic club brand in Austria and to grow more awareness for the strengths of this regional produced apple.
EVELINA is Austria's biggest club brand, which is produced in Austria for Austria. This apple is grown mainly in Styria by local Producers. EVELINA not only has a Wonderful unique red Color but also wins its clients by a fantastic taste and especially by ist good shelf life. Cirsp on the outside and jucy and frsh inside.
Es gibt nix Besser's als was Guat's! | There is Nothing better than something good!
For more detailled Information please visit the website of our partner www.evelina.at.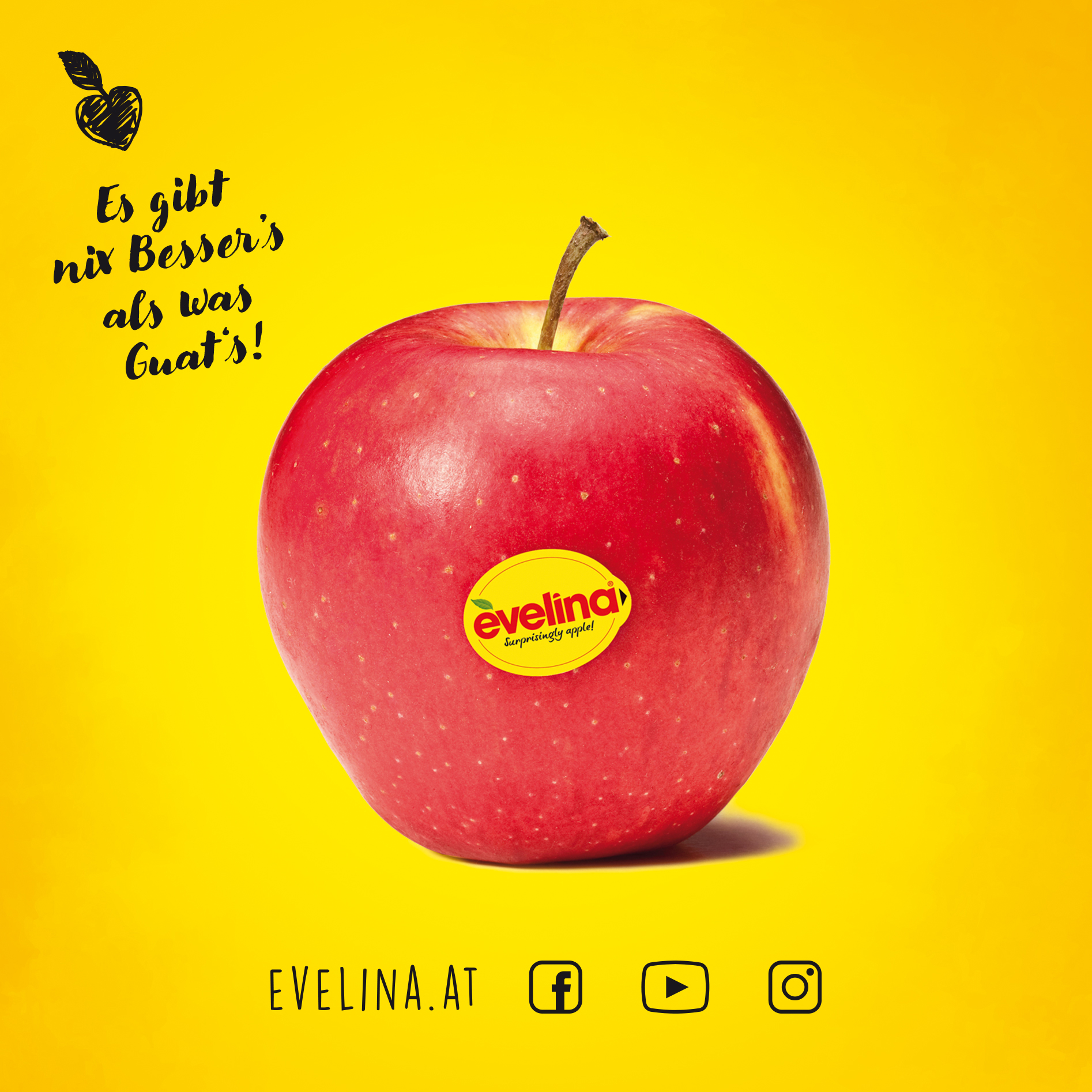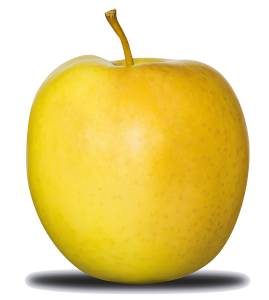 Golden Delicious
Origin: Discovered around 1890 as a chance seedling in West-Virginia (USA). Marketed since 1916.
Characteristics: Grandiose, essentially sweet, compact, full fruit of lively charm; in the background sometimes touches of slight tartness; plenty of juice, highly complex; juicy and firm to the bite despite its elegant and soft flesh; flavours that are typical of the variety and faintly spicy taste.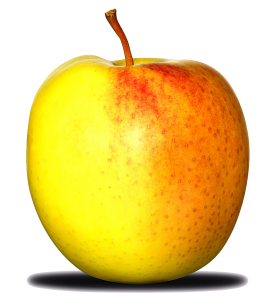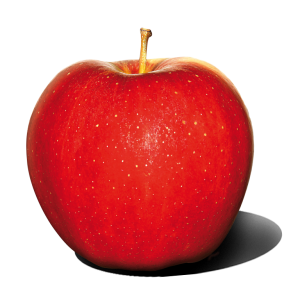 Gala
Origin: Kidds Orange x Golden Delicious, 1934 New Zealand, marketed since 1960.
Characteristics: Firm pulp with yellow reflexes; delicious entrance on the palate with a lot of ripe, sweet fruitiness; pleasantly mellow with full flavours and excellent, extremely low acid content – hence its starring role as child-friendly source of vitamins; very tempting.
Braeburn
Origin: stems most probably from the Lady Hamilton variety; described for the first time in New Zealand in 1952.
Characteristics: Firm, compact yet very thin peel; first impression on the palate is animating sweet with slightly tangy yet unobtrusive aroma; develops superbly on the palate; pleasant, medium-soft pulp; very juicy and lively; despite its light tanginess it has refreshingly cool, savoury touches.
Evelina
Origin: Germany
Characteristics: Pretty, young and German at heart. The aromatic fragrance of the Evelina apple is stealing the hearts of men and women the world over, time and time again. With its appetising shape and colours, from deep red to undertones of yellow, this apple will amaze you bite after bite with its fresh taste, calling to mind the authentic soul of nature.
A sturdy, resistant apple, it treasures its freshness and "just-picked" taste over time. Which means it's always succulent and crunchy, qualities which are appreciated at every taste test.
Keep your eyes peeled for the Evelina sticker. Let nature take care of you.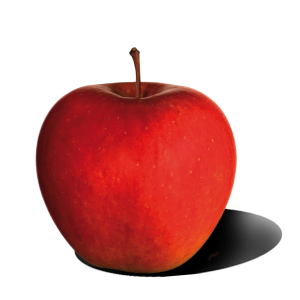 Pinova
Origin: Clivia x Golden Delicious, crossed in Germany in 1965, marketed since 1986.
Characteristics: Starts out with the impression of a lot of fruity pressure and firm body; downright muscular and massive; dense and powerful substance; very precise, fruity-sweet flavours but also savoury spicy touches; extremely animating to the bite; tight, very trendy, a multi-talent with grand finesse.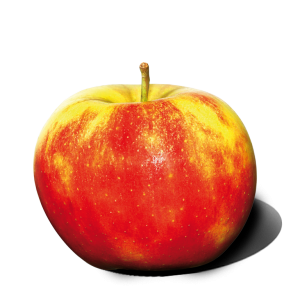 Elstar
Origin: Golden Delicious x Ingrid Marie, crossed 1955 in Holland, marketed since 1975.
Characteristics: Deep, ripe fruit, powerful, juicy, compact with beguiling scent and very strong flavour; enormous wealth of tastes; concentrated, savoury, spicy and sweet; refreshing thanks to its brilliant, fine tangy fruity aroma; very precise and dominant on the palate, with pleasantly demanding structure.
Jonagold
Origin: Golden Delicious x Jonathan, developed 1943 in the USA, marketed since 1968.
Characteristics: Elegant, creamy-white and sweet pulp; wonderfully complex aroma; tightly interwoven, delicious fruity volume; fleshy on the palate with rough cells and distinct, mildly tangy taste; layer after layer is exposed; clear and direct; compact and animating; delicate, fine vine.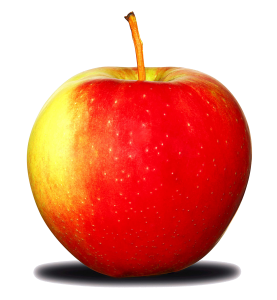 Arlet
Origin: 1958 from Golden Delicious x Idared in Switzerland, marketed since 1984.
Characteristics: An all-rounder with smooth, compact peel and firm, crisp pulp; full and animating scent and flavour; spontaneously appealing, beautifully structured and very rich in substance with pleasantly balanced acidity; extremely rich in vitamins and wonderfully refreshing.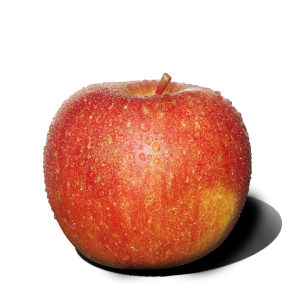 Fuji
Origin: Ralls Janet x Golden Delicious, developed 1939 in Japan, marketed since 1962.
Characteristics: Notably rough-celled, firm yet elegant pulp; concentrated juicy impression; stands out with very distinct fruit sweetness and timid acidity; very harmonious; superbly balanced on the palate; subtle and yet with delicately savoury, spicy character.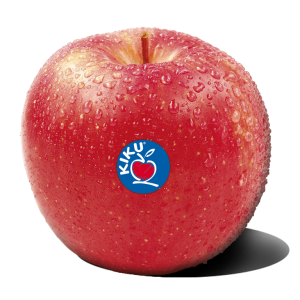 Kiku®
Origin: Fuji (Fuji KIKU 8Brak(s)).
Characteristics: This apple is a tasteful premium apple. Its ground color is yellow to light green and its covering color is minimum 60% ruby red with stripes. Its flesh is juicy, sweet and the apples convinces by a crispy freshness.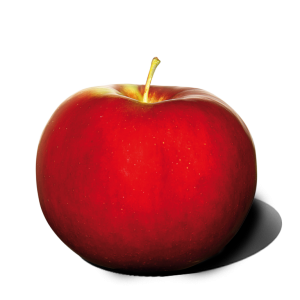 Idared
Origin: Jonathan x Wagener apple, developed around 1935 in the USA.
Characteristics: Thin, very firm peel; creates a good firm pressure on the palate; distinct, creamy-white, medium-firm pulp; invitingly bundled and juicy hint, but with a very mild effect and balanced out by the brilliantly full sweet extract; slight apple tartness, lots of vitamin C.
Because of our state of the art storage facilities, we can offer our products over a long time period throughout the seasons without harming the apples at all.